Using the Hero Image feature — which is only available to administrators — you can easily promote your community on Wikia's main page  and give your wikia's main page a bold, professional look. The Hero image will be displayed on the "Mix it up!" grid on Wikia's front doorstep.
Uploading a Hero image to your main page is easy. Just follow the steps and guidelines below!
Enable the Hero image feature in Labs
Edit
It should pop right out at you - the feature is called Hero Image.
Upload Images
Edit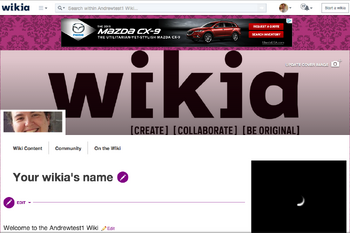 The upload process is super-simple. Just go to your wikia's main page and click "Update Cover Image", then pick one from your local computer (using images in your existing galleries is not currently supported, but you can always download them). Using the best practices below as a guide, find and upload the image that works best for your wikia. Make sure to use a high quality image as it will appear in multiple sizes across multiple browsers.
Once you've uploaded the image you want, hit the "Publish" button. If you want to discard your changes, click "Discard".
Give your wikia a name and summary
Edit
Click the purple circle with a pencil in it and give your wikia a name. Usually this is something simple, and communities often discuss what they're naming it as a group. Under the name, there's a space for a summary. Remember that this summary is going to be used around the site to promote your wikia, so try to make it sound fun and interesting!
Once you click "Publish", the changes automatically go live. Don't worry, as long as you've filled in the information and uploaded an image, only you and fellow admins can see the "Editor" portions of it.
Best Practices for Images
Edit
Do
Do not
Choose the single image that is most symbolic of your wikia's topic

Just like Batman has a simple bat, Jim Kirk has the shield of Starfleet, or McDonalds has the golden arches, you need a simple image — a logo, even — that makes people want to click on your wikia.

Submit an image with just plain text, or a simple screenshot of your wikia or game.

Remember that these images need to be eye-catching and interesting.

Use large, interesting images for your Hero image. This will be what readers prominently see when they visit your main page, so try to get their attention!
Submit images that have important information at the extreme right and left borders

In general, too much text is distracting, and some of it could even get cut off in other parts of the site. You're looking for an image that can convey the full message in one glance.

Make sure that the image is of a technically high quality

Remember, this is an advertisement, so put your best foot forward! Make sure the image is crystal clear!

Include a URL or your wikia's name

Folks will be able to get to your wikia simply by clicking on the image, and we will add a banner with your wikia's name.

Make a simple, bold design

Remember that most visitors are going to spend about one second looking at the page. Ask yourself whether your image is something that clearly conveys the topic of your wikia in that amount of time.

Try to squeeze too much in the frame or include complicated text in the image.

Most of the time, your image is going to display at much less than 480x320. Test your image on your wikia by putting it onto a regular page as a thumbnail. If it's too complicated at that size, it won't work well at wikia.com. Don't give readers' eyes more than about 2 individual things to look at — be they characters, books, product logos or whatever your wikia is about
Above all, get creative!
And remember, once submitted, your wikia will be represented on the main page of wikia.com. Please follow our terms of use and stay within those guidelines.
Next Pages
Edit
Further Help and Feedback
Edit
Template:Help and feedback section
es:Ayuda:Promocionar de:Hilfe:Wiki vorstellen it:Aiuto:Promuovi ja:Help:プロモート ko:도움말:홍보 pt:Ajuda:Promover ru:Справка:Продвижение zh:Help:推廣